Collecting samples for DNA Genotyping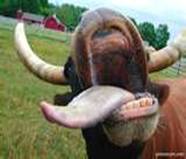 Ouch! Stop already!
Collect 30-40 hairs from the tail switch of the animal. If the switch is dirty or contaminated with dried manure take an old brush or comb and remove the dirt and old hair if possible, or wash the tail and when completely dry pull the tail hairs.
The DNA is extracted from the root follicles. The simplest way to pull the sample is to take the switch in one hand and with the other take a small clump of hair with the fingers and pull upwards with a slight jerk.
Repeat to gather more samples. It is easier and less annoying to the animal to take several small samples rather than one large. DO NOT TOUCH THE ROOTS OF THE SAMPLE.
Place the sample in an envelope and write the name of the animal and the barcode from the test form on the outside of the envelope, seal, attach to the test form.
If you are doing more than one animal it is best to use latex/vinyl gloves and change them each time or to wash hands between each sample.
Return to the Services Application